Praying for Healing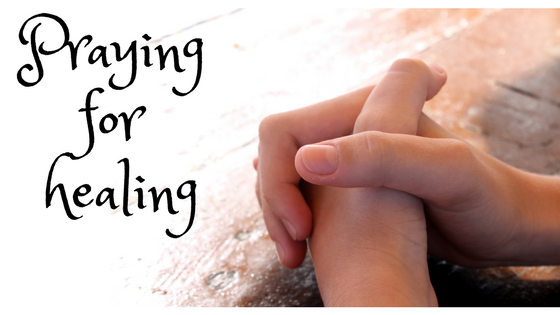 Healing
Praying for Healing! This week has been a busy one! As some of you may know (because of the prayer requests) my mother in law was in the ICU. She is still recovering but is at least out of the ICU.
She was taken to the hospital by ambulance, then once she was diagnosed she was transferred to a higher care level hospital over an hr away.  Prayers started immediately! Because of distance, and hospital policy only allowing so many visitors at a time none of which could be children, not everyone was able to be there at all times. So as any information was given we had a phone tree to inform the rest of the family. The first night that she was there my husband asked the Doctor if she would make it through the night. The doctor said he couldn't answer that, it was touch and go for several hours. She had pneumonia and the infection had moved into her blood stream. This is a women that just a few weeks ago was playing with her grandchildren, helping to teach and taking karate classes, and enjoying life as normal. Now she is laying in a hospital bed fighting for her life! The next several days we were all on high alert, we relied heavily on the phone calles for updates on her condition. 
One of the people in the phone tree was her sister. One phone call in particular stands out. Mike (my husband) called his aunt to keep her informed about her sister's condition.  After the official update they got talking about healing.  It was interesting as it had been on both of their minds in the days/weeks prior. In short they are both wondering why don't we see healing on a larger scale, or larger numbers. Are we just not seeing or hearing about them? Is there a lot more miracles happening out there? In today's connected world with social media it's hard to believe that's the case. 
We see healing all through the Bible that were not done by the Messiah. People were getting healed from shadows, and handkerchiefs! 
Why then wasn't she healed, many of us were praying. 
I thought about walking into her bedroom even before she went to the hospital and telling her she was healed to get up. I thought about doing it when she was laying in her hospital bed. You are healed get up! Did I do it? No! It wasn't from a lack of faith in Him, but a lack of faith in me. Why would I be able to do something like that, I am not that special. What if someone else heard me do it? Would it hurt their faith if it didn't work? These are all thing that ran through my head.
Yet we are supposed to be able to do these things, so what or where are we going wrong? 
Have you done or seen it? If so I would love to hear about it.
On a side note, the Doctor that is currently taking care of her is Dr Hashem! What an awesome reminder of who is in charge of her care! She is being cared for by The Name!
Leave your story in the comments below!